Monthly Archives:
March 2013
Performances from Legends DVDs Vol 1
Allah Hoo

Ali Da Malang

Nusrat Fateh Ali Khan – Legends Vol 2, Recorded in 1992
Tracks:-
Kinna Sona Tanu Ran Ne Banaya
Sanu Ek Pal Chain Na Aawe  (Awesome Version)
Gam Ya Khusi Hai Tu
Mera Piya Ghar Aaya
Ye Jo Halka Halka
Nit Khair Manga Sonya
Yadan Vichre Sajan Diya
Maikhane De Kol Gaya Vaan Do Ghut Peeti Dol Gaya Vaan
Enjoy..
Another Rare Concert Of Ustad Nusrat Fateh Ali Khan by Mr Asim Hussain of nusratfan.com. It was recorded sometime in 1995-96  in UAE and has some of the best qawwalis. Get ready for some mind blowing short performances… especially Mast Nazaron Se,Mera Piya ghar aaya ..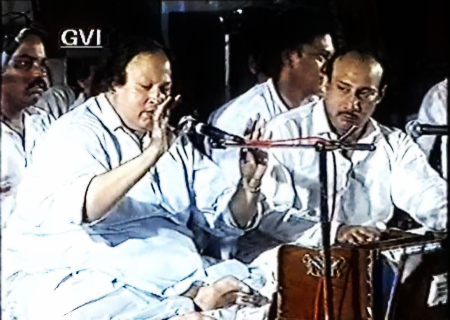 Track List
———————————————————————————–
Allah Hoo Allah Hoo
Mera Piya Ghar Aaya
Yeh Jo Halka Halka Suroor Part 1
Aakian Udeek Diyaan
Kali Kali Zulfoun Mein
Ali Da Malang
Sanu Ek Pal Chain Na Aawe
Yeh Halka Suroor Hai Part 2
Kanjer Hain Teri Aankein
Mast Nazroon Se Allah Bachae
Je Toun Rab Noun
Lal Meri Pat
Dam Mast Qalander Mast Mast