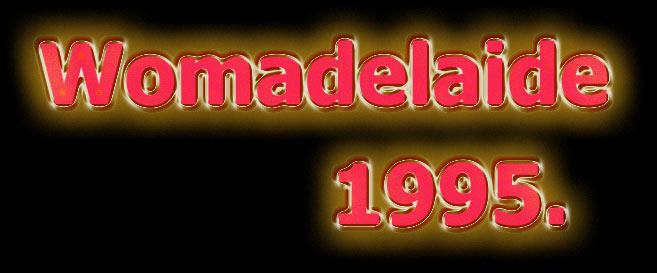 Nusrat Fateh Ali Khan performing Haq Ali Ali ( Ali Maula Ali) at Womadelaide (WOMAD at Adelaide (Australia) ) at his best blending great classical tunes into Hypnotic Qawwali rhythms. We  Heartly Thank, kallashah (Original Uploader) for this great treasure..
Part 1

Part 2

NFAK without doubt remained the most loved act of the three day festival (24-26th Fab 1995). Here is what a reviewer had to say
Nusrat Fateh Ali Khan , the Qawwali maestro with a voice that soared to the heavens and who was the hit of the 1992 festival, finished off the nights festivities on stage one at around 11: 20 pm. After the Cruel Sea, to listen to Nusrat's powerful voice , complimented by the usual backing of intense vocalists, fervent drumming and clapping and accompanied by the insistent harmonium , was enough to get anyone to become closer to whatever power has created this strange and twisted universe of ours. It was a joyous experience. I seem to remember that they had created an avenue down the middle of the audience in front of stage one ( this would be bloody hard to achieve nowadays , but they did it then as I have seen a photo of it somewhere ) and I remember standing for a few moments watching this giant of a man ( not only in musical terms as Nusrat was enormously fat ) , surrounded by his musical acolytes and thinking that there could be no better spot to be on the planet . Womadelaide 1995 became more than memorable because of him.
We once again Thank, kallashah (Original Uploader) for this great treasure.. you can expect more from this concert soon..